So you need software to write sheet music? I suppose you're in search of a simpler means of making it all happen. Well you know what? You've found it. I'd like to present you with the best music notation software used by musicians all around the world, Finale and Sibelius.
More and more arrangers and musicians are utilizing music notation software. The days when it was mandatory for one to physically write an entire score are no more.
Imagine having to transpose an complete score to another key, an undertaking which is often required. This takes a lot of time if you have to do it manually.
But with music notation software like Sibelius and Finale your entire score can be transposed into a different key in an instant. With just a few clicks you're good to go. You can reprint your song in any key, any time you like.
It's essential to have high quality software to write sheet music. It has become a compulsory tool for musicians everywhere. It definitely makes life easier.
Perhaps you've become frustrated. You're tired of having to write your music by hand all the time. You want your music to be more readable. You want it to look like something that was professionally published. Sheet music! Well it's very simple. All you need to get is the best music notation software on the market.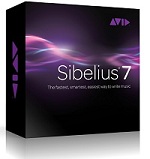 Free notation software
If you're looking to get your feet wet as far as music notation software is concerned, or if you don't want to spend any money, you can try out some free software called MuseScore.
Further reading on the best music notation software
Comments
comments