Interested in buying recording studio equipment to build a recording studio? On this page I shall talk about the kind of equipment you need to build a home studio.
There are lots of recording equipment available for someone interested in building a studio. These include multitrack recorders, microphones, mixers, studio signal processors, studio monitors, interfaces, stereo master players and recorders, recording accessories, studio racks, workstations and so much more. You can buy all the recording studio equipment you need at the zZounds store. I highly recommend them for studio equipments and instruments. They are one of the leaders in musical instrument retail.
Thanks to computers and recording studio software, one can save a lot of money today and not have to buy too much equipment. Since recording has become so digitalized you can do without certain equipment, like equalizers, compressors, effects units, etc. All you need is recording software like Cubase, Nuendo, Logic and Pro-Tools. They come with digital equalizers, effects, compressors, etc.
My Home Studio Setup
My studio setup is a very small one. I am an artist and songwriter who sequences/records/arranges my own songs. I am not a specializing studio engineer or producer. I produce, but it's my own music. I usually do preliminary work at my studio and then take it to another studio. But even when I take my work to other studios, these studios do not have any better equipment than mine. In fact sometimes mine is better. These producers/engineers simply have a better grasp on software than I do.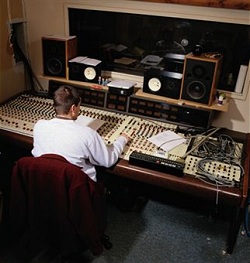 My computer is an HP ProBook 4720s laptop. This is enough for me since I mostly record my own songs. I have recorded a few artists but mostly do my own material, so the specs on this laptop is good enough. Even if my work load were to increase, the HP ProBook 4720s would be able to handle it. In future, I want to get an external hard drive to save my work.
Mixer
I use an Alesis multimix 8 USB mixer. Before I had this mixer I was using a desktop computer along with a Delta M-Audio sound card. Since my mixer has USB capabilities, I no longer need an external sound card. The mixer functions as a sound card. I love the ease of working with this mixer. It's so easy to connect to my laptop. The Alesis multimix 8 USB mixer is small and doesn't take up too much space. This is perfect for my home recording studio. I don't need to buy anything more expensive. There are enough inputs on this mixer for me and it's great!
Microphone
As part of my home recording studio equipment, I use an AKG C414 microphone. This is a highly recommended and popular microphone in studios all around the world. You can look up this microphone for yourself online and read the various reviews. This is the industry standard for recording vocals in project studios. Sure, there are more expensive microphones. But for the kind of recording studio I have, the AKG C414 microphone gives me the professional, radio-ready sound I need.
Keyboard
My keyboard is a Yamaha MM6 keyboard. Sometimes I use the sounds of this keyboard in my recordings but I mostly use it as a MIDI controller. You can use any MIDI keyboard since your recording software already comes with sounds. The Yamaha MM6 is a very good budget keyboard and features Yamaha MOTIF sounds. If you're looking for a weighted feel, try one of Yamaha's digital pianos.
Studio monitors
I have two Mackie HR624 monitors. These came highly recommended from various musicians, forums and recording circles. After reading so many great things anout these monitors I bought them. I haven't been disappointed at all. These monitors sound great and really deliver. They are powered monitors so you don't have to buy an amplifier. Just connect them to your mixer and you're good to go. There's also the Mackie HR824 which is more powerful. But for my home recording studio this monitor is just fine! Click here to learn about the Mackie HR624 monitor.
Headphones
My headphone is a Sony MDR-7506. This is a great sounding headphone and is an industry standard. It came highly recommended and has great reviews online.
Recording studio furniture
What recording studio furniture should you buy?
I have a few other equipment but those above are the main ones. Click here to buy recording studio equipment.
Choose your recording studio equipment carefully.
Avoid the mistake of choosing the wrong recording studio equipment when building your home recording studio. It is important for you to pick out good quality and efficient equipment right from the start. Buy gear that will meet your needs and do a great job. When you do that, you can just keep adding to your set up as time goes by. You won't have to throw away recording studio equipment which has quickly become obsolete. Start by thinking of a good purchasing strategy and stick to it. You will save a lot.
Reading reviews
One thing I like to do before I buy any piece of equipment, is to read all I can about it online. Thanks to the Internet, you can read various customer reviews from actual users of the piece of musical equipment you're thinking of getting. Customer reviews go a long way and can help you make a more informed decision. Click here to browse recording equipment and read reviews.
Tough decision on what to buy.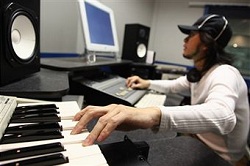 As a studio owner or musician, the decision on buying recording studio equipment can be a tough one. What do you buy?
If you buy the latest, state of the art equipment, you will obviously pay more. But remember that what you may now consider yesterday's gear was once state of the art gear. Does 'yesterday's gear' serve your needs? If so, buy it instead. Save your money. Invest it in other aspects of your music.
At the end of the day only you can decide what you really want. Your circumstances are different to everybody else's.
The bottom line.
As far as I'm concerned, the bottom line is sound. You can talk about all the 101 features that the piece of studio equipment has, and use all the technical terms you want. All I care about is good sound. It's all about what comes out of the speakers!
Always remember the importance of developing good musical talent. The best musical instrument or the best recording studio equipment will do nothing for a terrible song. The gear does not write the music. You do! This is where practice, experience and education come in.
Related topics:
Return to songwriting home page.
Comments
comments