If you're interested in learning how to write a song, you're in the right place. More and more aspiring songwriters, musicians and even experienced songwriters are making use of online lessons and courses.
When I started writing songs it was all about figuring stuff on my own. With songwriting guides like those available nowadays, I surely would have been better off from the start. There's a lot one can do on their own, but nothing beats having someone guide you along the way.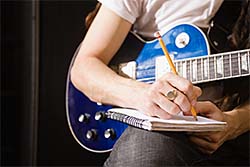 I recently released two books loaded with songwriting tips, techniques and advice that you should definitely check out. I have decided to  offer them to you at a very low price. Learn more via the links below.
How To Write A Song (Tips, Techniques and Secrets to Songwriting Success)
Do you want to become a successful songwriter? Do you want to write great songs? Do you want to learn how to write hits? Do you want song ideas to flow to you easily? Of course you do! This is why I wrote these two books. They contain exactly what you're looking for. They're loaded with helpful songwriting tips, techniques, help, advice and secrets to help you write hit songs and achieve songwriting success.
If you've ever lacked inspiration, if you've ever had mental block, or if you've ever struggled to write great songs, the books, Songwriting For Beginners and Songwriting Success are the perfect solution. Tip after tip, technique after technique and lesson after lesson, you will learn exactly what it takes to write songs that connect with listeners. You will learn how to write songs that your fans will truly embrace.
Whether you're trying to write your first song or you've written lots of songs before, the information in these books will take you to that next level. It will provide the road map you need to achieve songwriting success.
Here's a preview of what you'll learn:
Song Structure
How to Write a Song
Types of Rhymes and Rhyming Schemes
Scales, Chords and Chord Progressions
Songwriting Tips
Failure and Songwriting Success
The Secret to Songwriting Success
Writing Song Titles
Writing Hooks
Coming up with Songwriting Ideas
Lyrics and Rhyme
Getting Inspired and Motivated to Write
Getting Inspiration from Others
Writing a Song That Listeners Will Love
Working With Others and Becoming More
How to Keep Moving Forward
Writing Songs from the Heart
Songwriting Techniques
How to Write the Perfect Song
Music Copyright
Instruments, Chords and Music Theory
Getting Feedback on Your Song
Songwriting on a Deeper Level
And a lot more
I worked very hard on these two books. I am sure that they will help you. The following links will take you to the books.
Enjoy!
Continue reading:
Learn How To Write A Song – Songwriting Tips For Beginners
How To Write A Song Page Two
Page Three
Page Four
Discover the Secret to Songwriting: Law of Attraction.
5 Tips For Writing A Good Song
Comments
comments