Cakewalk Music Creator software is a favorite of musicians, music enthusiasts, singer/songwriters, PC hobbyists, bands, choir groups, students, and music teachers worldwide.
And it doesn't even matter what you want to record. You can record guitars, drums, keyboards, brass instruments, vocals, CD samples, or any other sound source easily.
Are you looking for software that delivers? All you need is Music Creator 6. When you want to tap your full creative potential this software will do. It is a lot of fun, but it is also easy to use and very affordable. With the advent of this piece of software, no longer will creating music on your computer be difficult. Just plug in your instrument or microphone and press Record. It's that simple.
When you need to get the job done quickly and without any hassles, forget about complicated and confusing software. Cakewalk Music Creator 6 makes it as easy as 1-2-3.
Gone are the days when you had to go to a recording studio and pay several thousands to record. Today many professional recordings are done on a basic computer.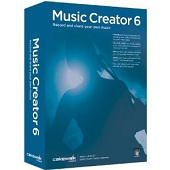 Do you want to turn your computer into your own personal recording studio. Try Cakewalk Music Creator 6. It includes everything you need to create, edit, and mix professional recordings. Use it to cover your favourite song or record an original song. It doesn't matter. With this software you can turn a simple idea into a finished song, thanks to its powerful suite of tools, loops, instruments and effects.
Features:
The Song Construction kits make it easy to get started or created backing tracks.
Drag and drop to build a song with over 1,000 included audio loops.
Create a professional mix with the included effects and mixing console.
Upload your song to Twitter or Facebook via SoundCloud.
Record up to 160 Audio and MIDI tracks
Perform hundreds of instrument sounds and make beats with the included instruments and loops.
Get started with over 60min of video tutorials.
Enhanced for the Intel Second Generation Core Processor Family
Supports Windows XP(SP3), VIsta and Win7
Cakewalk Music Creator Software Video
Overall, this is a great product. My only concern is that the current interface isn't as user friendly as those of the past. But I like the Studio Instruments Drums plug-in and the Soundstation software synth.
I tried this software in Windows 7 64 bit and it worked perfectly. All in all, you can't beat the value of this music creator software. It comes with a lot of great features for the price. What's great is that you can always buy add-ons for it. Click here to check out Music Creator software.
Return to songwriting home page.
Comments
comments