In search of music composition software? There are quite a few options available.

Sibelius
The first one we shall take a look at is Sibelius. The latest version is Sibelius 7. It is hailed by the folks at Sibelius as the "fastest, smartest, easiest way to write music.
Product features:
– The latest version of the world's best-selling music notation software
– Brand new task-orientated user interface that makes learning and using the software faster and easier than ever
– Fully 64-bit native application, including an exclusive 35GB professional-quality sample library
Learn more about Sibelius here.
Finale
Another top-rated piece of music composition software is Finale. The latest version is Finale 2011. Finale 2011 offers you the flexibility, freedom and power to create any music you can imagine.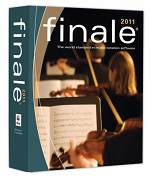 From lyrics and staff layout to Garritan sounds and new fonts, Finale 2011 is more intuitive and efficient. Make Music Finale 2011 provides easy access to everything you need to compose, arrange, play, and print music. It's compatible with Mac and Windows.
Learn more about Finale music composition and notation software here.
Sibelius and Finale are two of the best when it comes to music composition and notation software.
MuseScore
Are you looking for a cost effective alternative to professional programs like Sibelius and Finale? One option is MuseScore, a free cross-platform WYSIWYG music notation program. With Musescore, you can beautifully engrave sheet music or save it as PDF or MIDI file.
Some highlights:
WYSIWYG, notes are entered on a "virtual note sheet"
Unlimited number of staves
Integrated sequencer and FluidSynth software synthesizer
Import and export of MusicXML and Standard MIDI Files
Up to four voices per staff
Easy and fast note entry with your keyboard, mouse, or MIDI keyboard
Available for Windows, Mac and Linux
Translated in 43 languages
GNU GPL licensed
You can download MuseScore here for free.
Related pages:
Return from Music Composition Software to Music Software main page
Return to songwriting home page.
Comments
comments